2021 Special Edition Snowflake 11Th Anniversary Limited Release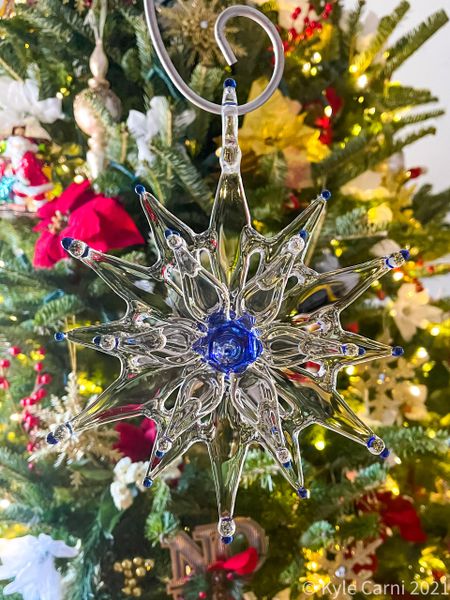 2021 Special Edition Snowflake 11Th Anniversary Limited Release
Do you need a unique gift for a someone special in your life? All NEW Limited Edition Crystal Ornaments for 2021 forged in the flame by Kyle Carni. The symbolism associated with these wonderful creations is one of beauty, grace, individuality and wonder.  This stunning piece is this years new addition to the expanding collection of unique Holiday Ornaments that you can only find at Galleria-Glass.com and Galleria di Vetro! Let the gift giving experts package, gift wrap, and provide you with our special Galleria "To and From" cards for that personal touch! All Limited Edition Ornaments are signed, numbered and dated. 

The primary symbol of the snowflake is uniqueness. When you look at snow from a distance, it looks like a massive blanket. On closer inspection, though, you find that it's made up of many entirely unique flakes. They all have different patterns and measurements. Thus, the snowflake can be a symbol of one's individuality.
Snowflakes are delicate and short-lived, and can, therefore, represent fragility and the fleeting nature of life.
When we see snow falling from the sky, we are instantly reminded of the winter holidays. In modern times, the snowflake is a symbol of Christmas and Christ's birth.
There is something special about the way a snowflake descends from the heavens, making it a symbol of grace.