Cobalt Blue Seahorse Wine Glass 2023-New Release*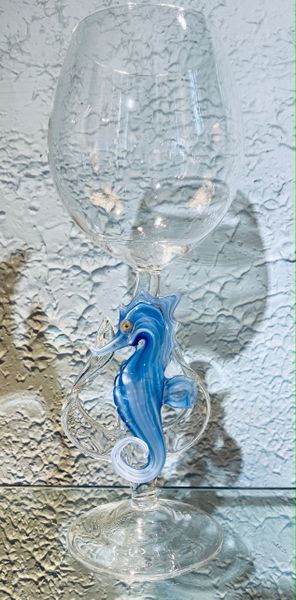 Cobalt Blue Seahorse Wine Glass 2023-New Release*
Each piece of glass displayed in our collection is beautifully and carefully crafted by Master Glass Artist Kyle Carni. Our resident artist and principle owner uses a variety of techniques and tools to create these one of a kind glass pieces. Galleria Di Vetro designs by Kyle Carni is brought to fruition using flame working and lamp working techniques thousands of years old. Since these functional artworks are handmade, no two pieces are the same nor should they be. No molds are used in its creation.  They are especially precious and valuable to anyone's collection because all pieces are produced in limited quantities. These products will have the ability beautify every house interior, both classic and modern. Most importantly, they will give delight to you, your friends, your family, coworkers and anyone deemed special enough to enjoy the experience as unique as being gifted one of these fine artglass sculptures These meticulously crafted wine goblets with its luxurious texture, individuality, and brilliance of light will bring joy for years to come.  They are handblown boron crystal "pyrex glass" that was designed to resist breakage, withstand heat and most likely repairable in case of accident or mishap.  These designs lend themselves to those with a discerning eye who derive please from the finest of artistisan design.  . Available for purchase as single, a pair, and sets of 6-12. Customs Wine Gift Baskets are available for that special someone or occasion. 
Please contact us directly for a one of a kind design where you will always be immersed in a "Unique Experience in Glass." 
$195.00 for one glass

Height 10 1/4"